WorkflowMax with Ferret Document Management System Q/A
May 13, 2015
Author: Andrew Storm
We asked Eleanor Shakeshaft – Director Bain EMA (Western Australia) four questions about how WorkflowMax works with the Ferret Software.
1. How does Ferret and WorkflowMax work together?
At our practice we set up a job in Xero Practice Manager and keep track of that job through the Xero system. Any documents we create or receive through the work we do are saved in Ferret. It means that we can control the workflow and know exactly where the documents are going to be stored. In Ferret we have a full list of clients together with the jobs for each client. Ultimately we can use the powerful search facilities within Ferret for any documents, jobs or notes generated through Xero or saved into Ferret.
2. How well does the Workflow Max and Ferret Sync work?
The sync is most important. Xero Practice Manager acts as our main database and as we update any client details they are automatically updated through to Ferret. The sync is seamless but it is worthwhile naming jobs in Xero to enable easy recognition of each job within Ferret. We don't do a thing, we let the system do it all.
3. Why would a Workflow Max User want to get Ferret?
Xero Practice Manager is limited in that it cannot retain documents; we always found that once a job is complete any documents associated with it are filed against that job. It is then quite difficult to go back through all the jobs to find a particular piece of information. Ferret is the missing link where all emails and documents are stored in one place and it actually doesn't matter where they are kept. They can always be found. Now we can flick into a client, see the jobs and see the documents against each of those jobs plus all the correspondence.
4. 3 benefits of using Ferret you have experienced
The help and support at Ferret is great, they are always happy to ensure we can use the system and sort problems as they arise, to me this is crucial.
Ferret is easy to search and as documents increase, it is ever more important that we don't lose what we need.
Ferret is easy to use, our staff picked it up very easily and when we need further training, Ferret are happy to assist.
Ferret Screenshot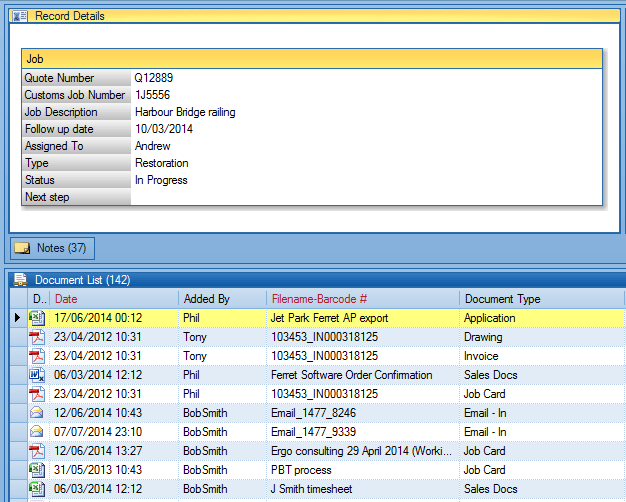 (shows ALL documents and ALL correspondence relating to the Job in ONE place on ONE screen).
If you are interested in learning more about how Ferret Software works with WorkflowMax at your business please contact us for a free LIVE demonstration.
Click here to read more about what Ferret can do for you
Click here to request Live Ferret with WorkflowMax Demo
Click here to visit WorkflowMax website
Make enquiry ▸