Fish & Game Hunting for Documents and Information
August 01, 2014
Author: Andrew Storm
Fish & Game Southland is a Council with the purpose of management, maintenance and enhancement of the sports fish and game bird resources in the Southland region.
We run operational projects that enable us to see trends and set bag limits etc. Some examples of these projects include Species management (trout & game birds) – population monitoring, harvest assessment & regulations, Habitat protection and Angler & hunter satisfaction.
To set regulations for a particular species we review all relevant current and historical information. Some information can go back 30–50 years and can include hundreds of emails, paper and digital documents.
Before Ferret Document Management System
Before Ferret no one knew what documents or information anyone else had. Over the years different people had built their own document filing systems – "Re-inventing the wheel", meaning everyone was doing something different. We were beginning to run out of space in our paper archive room. It could take days to collate historical data.
Installation of Ferret
One of the best things about Ferret was how easy the installation and training process was. The Ferret team remotely installed, put all of our documents and correspondence (paper, email, digital documents) into the code (operational work plan project number) where they belonged. They did a group training session and followed that up with a User Tips and Tricks program. Brilliant!
Using Ferret
We are all able to go to Ferret and find all the information we need from one place, fully digital and without getting out of our seats:
All Documents - It doesn't matter what type of document it is, it will be in Ferret.
Sharing Information – Before I start a species review I need to review my colleague's research. It is ALL in Ferret and quickly available.
Historical Information - We need to know what the resource has been doing over the years. We can do that as the historical information is now right in front of us.
Security – Eliminated the risk of a fire destroying our paper archives and documents cannot be accidently deleted in Ferret.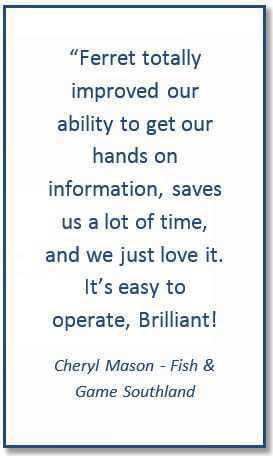 Make enquiry ▸