Email Document Management
May 26, 2015
Author: Andrew Storm
When your staff rely purely on Outlook to manage emails they face many challenges.
Email Document Management Challenges:
It takes a long time to search and find emails
Important emails are lost or accidently deleted
Other staff cannot see the latest emails
It takes too long to review a business record (job, project, client) because emails are scattered
Email Document Management by Ferret
Ferret provides an advanced email document management system for Outlook as apart of Ferret Document Management System. The features include:
When you send or receive an email from Outlook you will be prompted and asked to save the email to the record (client, job, project, supplier) it belongs to.
Emails are re opened directly from the record within Ferret Document Management System.
File emails and/ or attachments separately
Auto Indexing of emails enables you to search by to, from, date, subject line.
Benefits
Increase Productivity - Find the email you need instantly and review the record (client, job, project) quickly as ALL documents and emails are in one centralized document management system
Compliance – Prevent lost or misplaced emails and securely file emails within business record where management can easily review.
Teamwork – Staff can view ALL emails relating to the business record meaning no more asking each other for the latest email
Outlook email integration

Screenshot - View ALL emails, as well as other documents, relating to your record (i.e. client, job) from one screen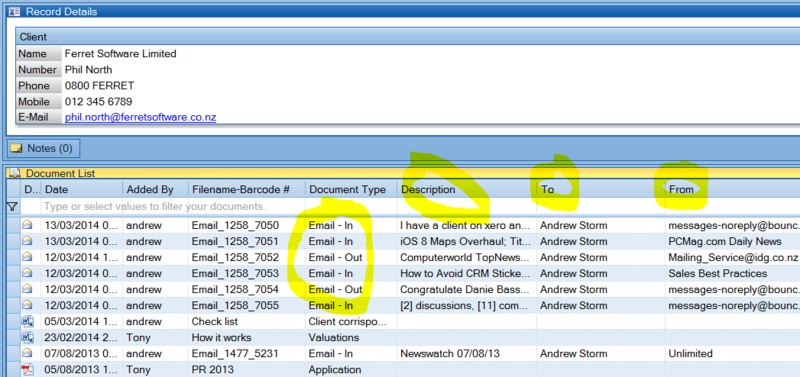 Ferret Software is a specialist document management solution provider to thousands of business users.
Request a live demo – Click here
Contact us – Click here
Make enquiry ▸